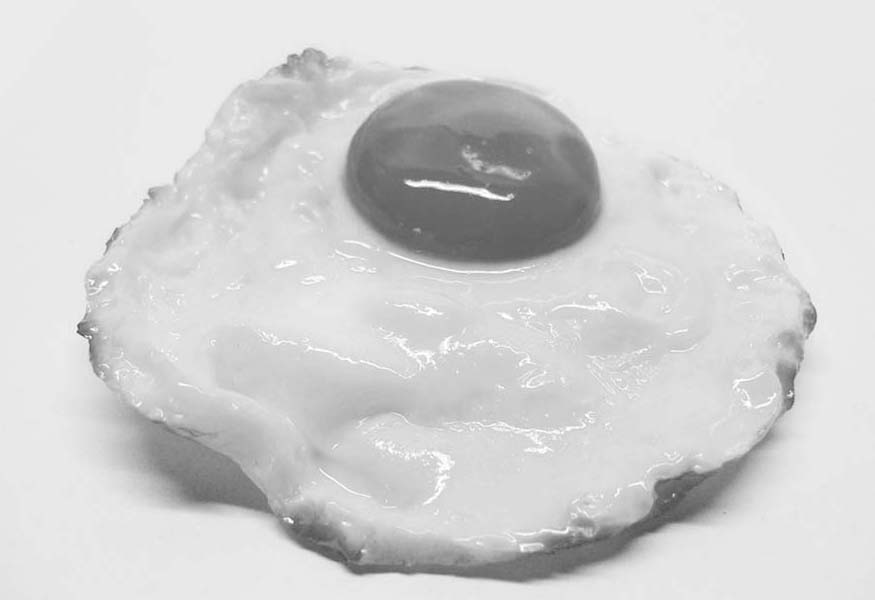 Customer Centricity in Banking
Context
Customer centricity is increasingly a focus in the banking industry. Motivation arises from the push to evolve the banking business model away from a largely product push model that has worked well in the past (quick to market, simple to operate) but increasingly challenged as market penetration reaches saturation and customer needs become more sophisticated. This trend links with the increasing use of sophisticated customer analytics that give businesses a detailed view of the customer.
For those that get customer centricity right the benefits are significant – increased share of wallet, greater efficiency by aligning cost to serve to client segments, and enhanced customer experience by being able to effectively deliver banking across product siloes. For those that remain product push players, the end game is one where they merely compete on price.
But what really does customer centricity mean?
A quick poll amongst banking industry participants suggest that it means different things to different people, often driven by the function they are in and the initiatives they are embarking on at the moment. The most common five responses are:
It's all about identifying customer needs and developing products that meet those needs
It's about having good CRM and analytics so that we understand the customer better
It's about improving customer experience
It's about marketing and communicating a promise to the client
It's about focusing on key customers, resulting in an increased share of wallet
From the customer's perspective it's all of the above and more, starting with the bank fulfilling the basics of good service. Simple, hassle free banking rather than banking that is so often described as a "necessary pain" – why do I need to fill out a new form each time I apply for a product, why do I get better pricing if I negotiate one product at a time than when I sign up for a bundle, why do I have to deal with silly policies that make no sense, etc. Many banks have been at this for some time, but still the overall standard of service and customer experience often times remain poor from the customer lens.
From the bank's perspective, there are various levels of customer centricity, as one moves away from a product push model. The different levels in ascending order are as illustrated in the diagram below.
Stages in moving from product push to customer centricity
Easier said than done . . . what is required to achieve greater customer centricity?
A spectrum of enablers is required across product, infrastructure / analytics, processes, and organization (see diagram below). Ultimately it's about changing the mindset of the bank from one of "this is what I need to do in my product line / function" to one of "this is what is needed for this client segment."
The journey towards customer centricity requires putting together various key building blocks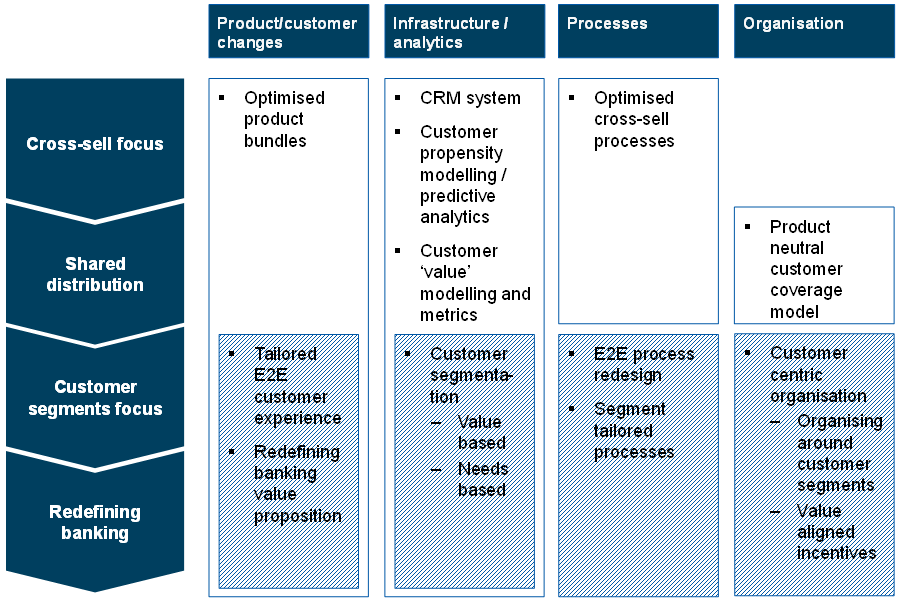 Often times too much emphasis is placed on the front end (customer experience, products, marketing / communication) and not enough on the back end as well as insufficient hard decisions made on the organization.
On the back end, policies and processes need to be aligned to the customer segment, from risk to fulfilment. For example, a bank may have a risk policy of not sending new or replacement credit cards to customers with new addresses (say less than a month old) for fraud prevention, however taking a cost-benefit approach this could be waived for priority segment customers and young professionals segment which may be changing addresses more frequently.
Organisation is the single most important thing to get right in moving towards a customer centric model both from a functional perspective as well as sending out the right message. It is also the most complex as it involves introducing a third function on top of current product and distribution functions which by themselves already have a complex relationship. There are a few ways which a segment dimension can be introduced (see diagram below):
Hard segments – Segment as P&L, with vertical distribution and dedicated back end functions
Double hatting  – Existing product or channel double hatted with segment responsibilities
Segment overlay – Metric structure of segment on top of current product and channel functions
Most banks have set up the segment function as a combination of hard segments and overlays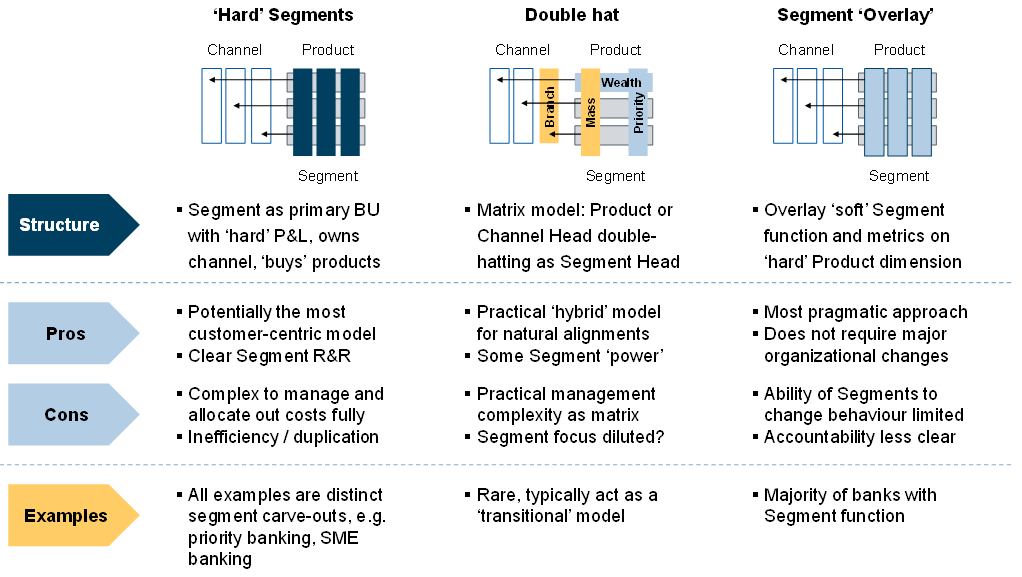 Regardless of the organisation structure, at the minimum KPIs across the various product and functional units should be aligned to or at least have a segment element to it e.g. team(s) in the operations function should have KPIs that are tied to how well the segment they are aligned to is doing and be rewarded according to segment performance. This ensures a teams across the bank have a segment hat on.
How best to start the journey?
Moving towards customer centricity is a multi-year journey, with complexities in introducing the new way of doing things. A few possible natural ways to start include:
Pick a new segment, which the bank has not specifically targeted before to build the new model around e.g. young professionals, university about to graduate segment
Pick a significant event in the customer life journey to build a segment centric proposition e.g. first child
Evolutionary approach – gradual transition of the segment function from one providing simple customer insights to defining customer experience  / proposition to having P&L responsibility over time
Success in this journey will come from not one big change, but accumulation of small changes. There is no one single initiative that will prove to be the silver bullet, but a collection of initiatives across the bank that makes the difference.